"
The Unseen Foe
" was a 
job
 in 
Fire in the Sky
 of 
Sly Cooper and the Thievius Raccoonus
.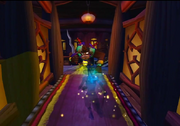 Walkthrough
Edit
To get past the first guard, walk onto the conveyor belt and use the Invisibility move. After that, sneak past two more guards next to a bridge with flashlights, then climb a winding ramp in the next pagoda and use the Invisibility move to avoid being caught by the moving laser walls. Next, jump out of the pagoda, over the watchtower and into the upper floor of the pagoda you were in earlier.
Use Invisibility to sneak up on the guard in front of the conveyor and kill him, then railslide down to the next pagoda which you have to climb floor by floor. Once you are nearly at the top, take a rope down to yet another pagoda. After running through the laser floors, take the hooks on the left over to the pagoda you were just at.
At the top is the vault, which holds a page of the Thievius Raccoonus. There will be an opening in the wall of the second to top floor, walk in and you will notice a bunch of lasers. Now you must jump from platform to platform to avoid the lasers. You just jump to the first on the right, to the first on the left, to the first on the top, then you continue by jumping to the second on the right, to the second on the left, to the last on the top. The treasure key is right in front of you. Smash the case and steal it to end the level.